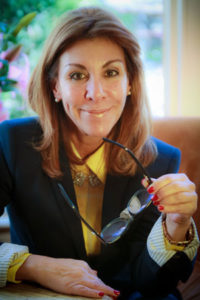 The information below tells you about me, my professional background and a little bit about my personal interests… I hope you find it useful.
I came to the UK in 2001, originally living in West Yorkshire before moving to the beautiful Surrey town of Farnham, where I teach Spanish to students and adults (including businessmen and businesswomen).
I grew up in my home country of Argentina, where I trained and qualified as a lawyer before running my own legal practice. My legal work mainly focused on civil law matters, including working for a consumer association (where I defended clients' businesses). At the same time I became a Judge in arbitration tribunals on behalf of consumers.
My teaching career also started here as I used to teach people about consumers rights in Patagonia and other socially deprived areas. I also taught Spanish language and literature at the University of Buenos Aires.
My UK background
In 2001 I moved to the UK, working for 9 years in the NHS / NHS Bradford District Care Trust as a Project Support Officer and Information Governance Assistant. During my time in West Yorkshire I developed an active interest in the Sue Ryder charity, an association which continues to this day.
My teaching background
In 2010 I became a self-employed Private Tutor and Literature Translator. I also taught a group of students from Saint Andrew's University for a project involving Spanish and Hispanic & American literature (a specialist area of expertise for me).
In 2011 I brought all my language, mentoring and business skills together under one business and founded "Top Spanish". This allowed me to pursue my joint passions of teaching people and helping businesses in all matters relating to the vibrant and colourful language of Spanish (and Spanish-speaking countries).
I particularly enjoy working with children and employ a range of learning materials, including National Curriculum books and listening / visual aids (CDs / DVDs), to make sessions fun and memorable for each student. I hold an Enhanced Disclosure and Barring Service (DBS) certificate (formerly known as a CRB certificate), so parents are reassured about my credentials and background.
Business clients are reassured by my legal background and project management experience. This ensures their work is completed to ethically high standards with a strong emphasis on project governance, including translation services and drafting / proof checking of documents or contracts. I also help employees to learn Spanish and develop their knowledge of cultural matters when dealing with Spanish speaking countries (especially those in South America).

My teaching qualifications were gained during my early teaching career in Argentina and I have completed the British PTTLS University Degree (Preparing to Teach in the Life Long Sector), via Leeds Metropolitan University (Keighley College).

With over 20 years experience of teaching Spanish I understand how important it is for each student (children and adults) to work with a personalised programme, so they study at a pace that helps them learn to the best of their abilities.

In my spare time I enjoy going to the theatre, especially for opera and ballet. I love music too, particularly classic jazz, and really enjoy biographical films such as The Theory of Everything.

To arrange an initial discussion or meeting please contact me.